Jen Pretorius, proprietor of The Farmer's Daughter, was inspired by happy child memories to create a new artisanal ice-cream range, which is pure cream – and all pleasure. No chemicals, no artificial flavouring – and made with love.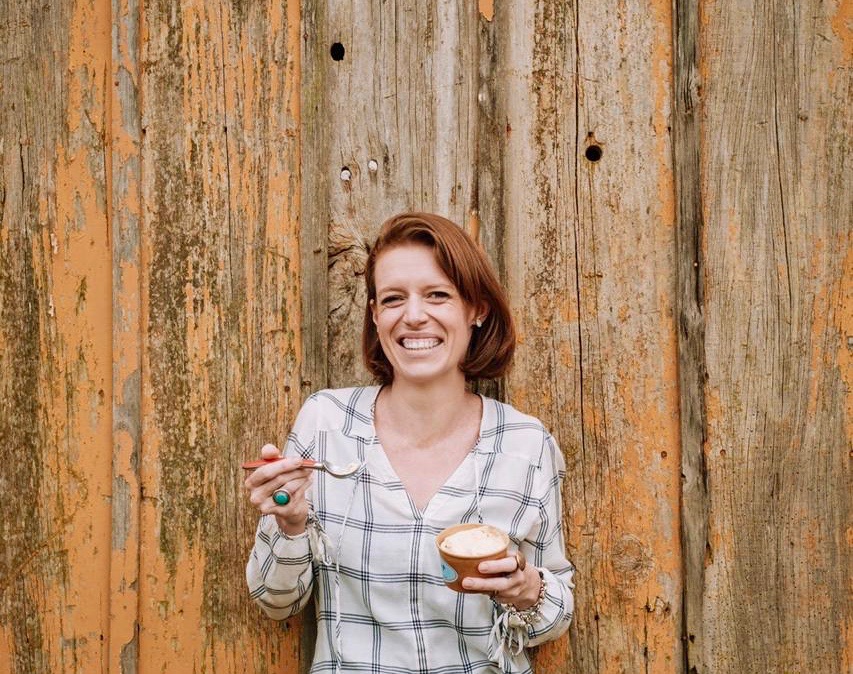 Jen Pretorius is the heart and soul behind The Farmer's Daughter, a whimsical restaurant, cafe and deli at 4 Shafton Road, Howick, filled with an eclectic collection of vintage and retro furniture, crockery and bric-a- brac. It offers sweeping views over the surrounding hills of the Midlands and has a small play area for kids. A perfect spot, then, for family breakfasts, brunches or lunch. Or just tea and cake. Jen bakes spectacular cakes. And, while most of you know, and love, it as an eatery serving cafe-style, honest food using locally-sourced farm ingredients – Jen is not a farmer's daughter for nothing – she's now added artisanal ice-cream to her restaurant's food line-up. And, boy, is it something special.
Tapping into Google reveals an intimidating list of chemicals that are commonly added to commercial ice-cream. Such as: Propylene glycol (also used in antifreeze), glycerin, sodium carboxyl methylcellulose, monoglycerides, diglycerides, disodium phosphates, tetrasodium pyrophosphate, polysorbate 80, and dioctyl sodium sulfosuccinate, all of which help to stabilise and emulsify it.
Only when knowing all that can you really appreciate ice-cream that is this pure and natural.
The other joy of her ice-cream is that it's not sickly sweet. It lets the flavours talk, not the sugar. And nor is it diluted in any way by milk or water or any non-dairy liquid.
Jen describes her journey to ice-cream-making, this way, "My heart of heart's passion is making guests feel loved by the type of food we serve at The Farmer's Daughter.
"My ice cream is an extension of that aim. Ice-cream is all about nostalgia for me. We eat ice-cream when we are happy, sad, making memories, on hot or cold days. I fell in love with the perfect ice-cream when I was a child. My mum's friend, Alison, had a Jersey cow which produced beautiful, thick yellow cream. She would make ice-cream for us when we visited. The feeling of wanting more and more and more until you're in an ice cream coma was very real. 
"My dream was to own a proper ice cream freezer and churner, which I bought in 2017. My ice-cream is not gelato; it is not very light and airy, it's farmstyle, 100% cream only, ice-cream. I would love to have my ice-cream as our signature item on the menu, as well as have it stocked in stores.
"I use no water or milk in my base at all. When adding in the flavour, what it says on the tub is what's in the ice cream. For instance, a lemon meringue ice cream, was made with a whole, homemade, lemon meringue pie. Same for every other flavour. We do not use any essence of extracts, it's the real thing, only. Our salted caramel is made by blending home-made caramel, cooked on the stove, with our home-made fudge chunks in the mix. My ice- cream holds my heart, I will love it, success or not."
Jen was so keen for me to sample her range that I managed to persuade my oldest brother, Bryan, who lives in Hilton, to fetch the range, bring it to Durban, where we had a family sampling. It included my sister-in-law Patsy and my daughter.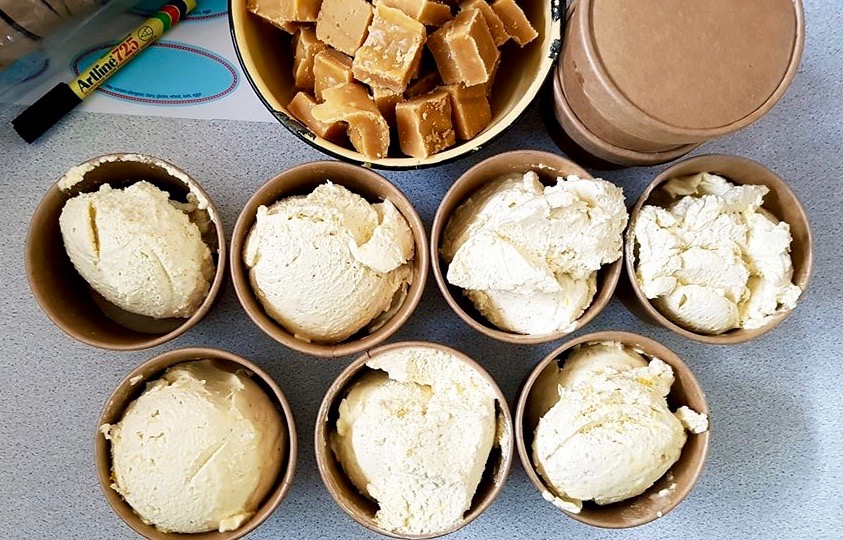 The flavours we sampled and rated out of five were:
Peanut Butter Oreo
Salted Caramel
Lemon Meringue
Vegan version with Peanut Butter, Oreo and Roasted Banana
Vanilla Bean
Peanut Butter Chocolate
Blueberry
Pecan Pie
Chocolate.
The Chocolate was a winner with everyone and was awarded four and five stars (out of five). It has a decadently, chocolate flavour. A must for chocoholics.
Salted caramel was another winner, receiving four and five stars. Most salted caramel ice-creams are disappointing in that they hold back on the salt (why?). But this was salty and sweet and caramellly. Bliss
Vanilla Bean was yet another favourite, also winning four and five stars. A lovely, lovely ice-cream classic brought to life with real vanilla.
The lemon merginue was generally enjoyed, but I loved it most, because I adore lemon meringue flavours. This flavour has it in abundance
The Peanut Butter Chocolate flavour received a mixed response with my brother rating it highly. The rest of us gave it three stars.
The Peanut Butter and Oreo fared better and was given four stars by everyone, apart from me. I'm just not a peanut butter fan.
The Bluberry received mostly four stars. The fact that it included whole blueberries give it a special appeal as it offered not only a slightly tart element but also a winning crunch.
The Pecan Pie flavour is packed with chopped pecans. It earned an average of three stars during the sampling. But the next night, while lying on the couch watching TV, I decided to give it another go. Initially, I was intending to have just a few mouthfuls, but ended up finishing the entire tub. I can't remember when I last did that as I'm not a natural fan of ice-cream – largely because I find it too sweet. But this was so perfectly rich and creamy and crunchy I couldn't put it down. I think I might have experienced the ice-cream coma Jen mentions.
I seemed to be the only one who enjoyed the vegan version. I thought it was unexpectedly good. The others were less impressed.
As I understand it, Jen is still only selling her ice-cream at her restaurant. Her dream is to get into supermarkets, delis and shops and let's hope she does. I want some more of that Pecan Pie. I have to have more. Haha.