Food Stories: Our Favourite Recipes, With Love From The Twins, by Tebo and Lebo Ndala (Human & Rousseau) is a new cookbook on the market – and it's something very different. By Ingrid Shevlin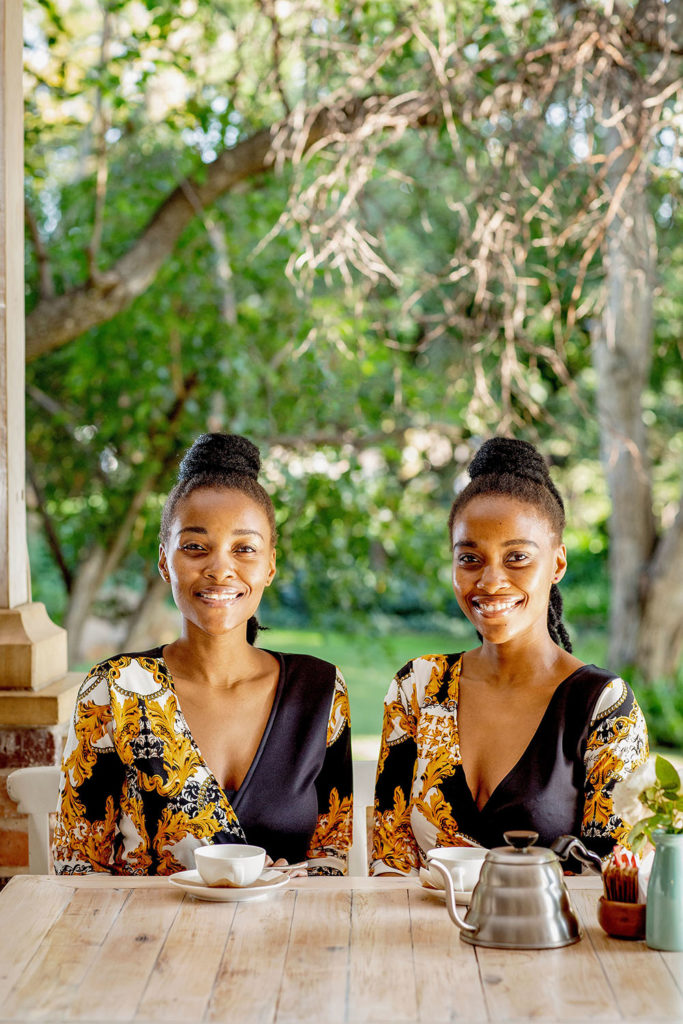 Food Stories is probably the most wildly diverse cookbook you'll ever read. And its authors are probably unlike any female chefs you've met before. Firstly, they are young, shapely, stylish, gorgeous enough to turn heads, a little giggly and charming to boot. Secondly, they are identical twins who share a twin passion for food and cooking and decided to follow a dual dream to make it their profession.
As for their book, its recipes include traditional Sotho and South African food with a twist, jollof (one pot food of West African origin), homestyle American food, Thai/Asian food, flatbreads and pizzas, culinary ways with (rooibos) tea, decadent treats for the candy buffet and recipes from their favourite pop-up restaurants. 
My word!
When I tell them their collection of recipes is certainly eclectic, their faces light up. They like that. That it's not your typical cookbook.
But as the Pretoria-born and bred twins tell me over an interview at Savior Café in Glenwood, Durban, and as the title of the book suggests, the food reflects the roads less travelled; the diverse food journeys taken.
Food is not only a language of love, but it's their language of communication. 
Like one would imagine in identical twins, they have an intense and palpable bond. They glance constantly at each other as they talk, and whisper soft asides to one another. I read somewhere it's like having a built-in best friend for life. While they don't dress identically, they dress similarly. In truth, I would never be able to tell them apart and as I couldn't keep up with who said what, I sometimes attribute quotes to both of them.
The twin's passion for cooking was inspired by their grandmother, Koko, who shared their lives, and a section in the book entitled "Koko's Kitchen" is their homage to her. Their childhood was rich in family life and all family gatherings were celebrated over food, whether they were Sunday lunches, birthdays, weddings or Christmas lunches. During their childhood their food was, generally, traditional South African and Sotho. It was a trip to Thailand when they were in high school that first opened their eyes to other culinary possibilities.
Unsurprisingly then, they decided to explore the world of food professionally and spent three years at the Hurst Culinary Academy in Franschhoek which, they say, was excellent groundwork for a career in the hospitality industry.  
But first they wanted to spread their wings and after graduating they jetted off to America and studied American literature at UCLA Extension – a continuing education institution in Westwood, Los Angeles, on the campus of the University of California, Los Angeles. During their stay they stayed with two different host families
One twin went to New Jersey, the other to Massachusetts. It was their first separation.  
The Massachusetts family was sport and health conscious. Mum kept a tight rein on the household, the kitchen and her kids. "Mum used a crock pot (slow cooker) a lot and focused on homely and hearty food," said Tebo.
She remembers with delight her first meal there, chicken Parmigiana, and her first Thanksgiving and American-style Christmas.
Lebo was hosted by a West African family, whose culinary heritage was Nigerian food. Not that they ate traditionally often. "Everything we ate was takeways and everything had ketchup on. We only ate West African food on special occasions and that was amazing. It was very inspiring, " she said. 
Back home they set up a catering business, presiding over pop-up restaurants and cooking celebratory meals on request. Then they were headhunted by Human and Rousseau, who had been following their online presence with interest, and asked to compile a recipe book. It took them two years to complete – and it's all nearly history.
The book, which was launched in September, has had a positive response so far, they say. "People felt they could connect with us".  
A charming chapter of their book is dedicated to Seven Colour Sunday. It's a tradition in their household to serve food that reflects all the colours in the rainbow on Sundays and for celebratory meals. How totally cool is that. They write, "Rice was the Sunday staple; then there was gravy, fried chicken, coleslaw, potato salad, mashed potatoes, roasted butternut, sauteed cabbage, green bean salad, green salad, pasta and broccoli salad, betroot salad…. And oh, what was a Sunday lunch without jelly and custard. Or trifle.."
Today they serve their own, less starchy version of "seven colours" without forgetting their roots. So the version in Food Stories includes recipes for roasted butternut and granola, boerewors potjkies, seafood paella, couscous, feta and pomegranate salad, a cheeseboard and a grilled veggie platter with dips. 
They developed all the recipes featured in the book with many given a "South African twist to blend cultures". Some are also inspired by their food heroes. For Lebo it's Dorah Sitole, food editor of True Love magazine  and author of From Cape to Cairo: A Taste of Africa, while Tebo goes weak-kneed (my words) over Gordon Ramsay, finding his disciplined and purist approach to food very appealing.
Lebo's favourite dish is samp and spinach. Tebo's favourite meal is oxtail. "It's my go to dish", she says.
But the twins are all too aware of the growing trend for plant-based food. Lebo says, "We try to go with it, go with the flow and plan for it when called for". Tebo admits, though that veganism is tougher to respond to than vegetarianism, "You can't even use eggs or any diary products", she says grimacing.
They admit to being happy meat eaters themselves, although they try to include as many vegetables as possible in their meals. "Whether our customers are vegans, vegetarians, or gluten-intolerant we make a plan. Our recipes are easily adapted."
Tebo and Lebo prefer their ingredients to be locally sourced and to know their provenance. "We are absolutely obssessed with how we cook our food and where our ingredients come from. 
"We became more health conscious when we became chefs and it helped change the way we look at food. We want the whole cooking procees to be more careful, more ordered."
Their dream for the future? To inspire young chefs, to run a small cooking studio, to encourage young people to travel more and learn about food from other countries. Like they did. As they proclaim on their website, We Came, We Cooked, We Conquered". Who would argue with that.
HAZELNUT-BUTTER FINGER BISCUITS
Serves: 10–12 Prep time: 45–50 min
I couldn't find hazelnut flour anywhere so used almond flour instead, along with almond essence – the real stuff, from Col'Tempo deli at 2, 8th Avenue, off Florida Road. Because the dough is very soft, you must refrigerate it or it will be very difficult to roll out. Next time I make these biscuits, and I will, I will make little balls of the dough and flatten them out with a fork on the baking tray, because the rolling out process is fiddly work and I'm not into fiddly. These biscuits are melt-in-the-mouth deliciousness. Once you start on them, you can't stop. – Ingrid Shevlin

Ingredients:
500 g butter, softened
1¼ cups icing sugar
2 tsp vanilla extract (or almond extract if you are using almond flour)
3 cups cake flour
1 cup hazelnut meal (I used almond flour)
¾ cup cornflour
½ cup custard powder (Woolies makes a delicious vanilla-flavoured custard powder)
Castor sugar, for dusting
Method
1 Preheat the oven to 160°C.
2 Line baking sheets with baking paper.
3 With an electric mixer, beat the butter, icing sugar and vanilla together for 5 min until pale and fluffy.
4 Stir in the flour, hazelnut meal, cornflour and custard powder to form a dough.
5 Divide the dough in half. Wrap each half in cling wrap. Refrigerate for 35 min
6 Roll out the dough between two sheets of baking paper to 1-cm thickness. 7 Cut the dough into the desired shapes.
8 Bake for 8–12 min or until golden-brown around the edges. Keep a close eye on them so they don't burn. Cool for 5 min.
9 Dust the biscuits liberally with castor sugar once cool.