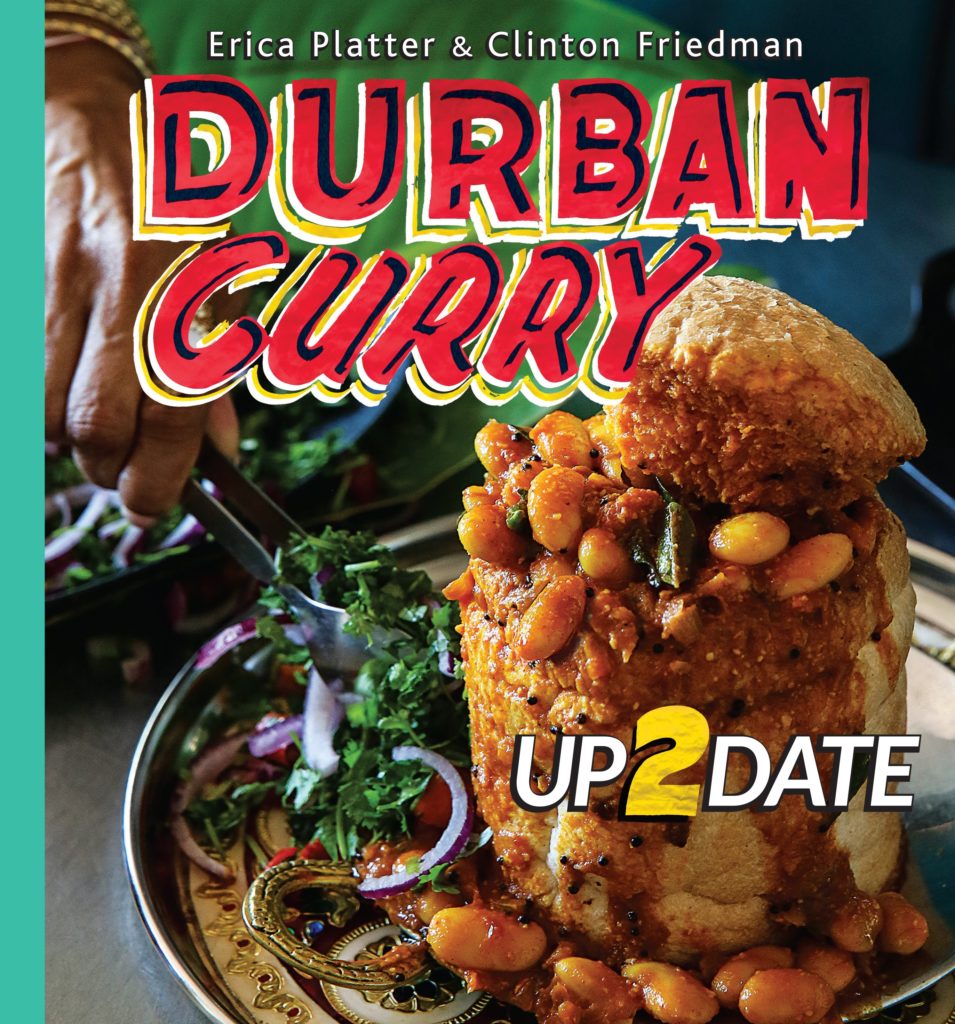 Durban is the only city in South Africa that can boast it's own signature dish: Durban curry. Now Erica Platter and Clinton Friedman have just published another book celebrating the city's  culinary treasure, Durban Curry Up2Date is the HOTTEST book off the press right now. By Ingrid Shevlin, who ended up at two book launches.
Erica Platter was at one of the many launches promoting her book about Durban curry when she overheard two women talking. One said words to the effect of: "Why is this white woman writing about curry". To which her friend responded, "Well she did it, didn't she". And so she did. Again.
Erica Platter's first book, Durban Curry – So Much of Flavour, was so popular if was reprinted three times before finally selling out. It was also placed second in the Best Book of the Year category in the prestigious Gourmand World Cookbook Awards 2015. No mean achievement.
But the public was insatiable, it seems, for more curry stories so rather that reprint it for a fourth time she and Clinton Friedman decided to publish a brand new collection of recipes. Clinton is her "publishing partner, image maker and everything-else designer", as she puts it. The book is Durban Curry: Up2Date. Up2Date is the rather evocative description for the potatoes ideal for use in curries.
Erica describes her book as more about "food stories" than recipes – although there are recipes, of course. But, if you think Erica dreamed up all the recipes, she didn't. It's  a complitation of recipes from some of Durban's best known curry chefs, chefs with a penchant for all things spicy, foodies, and homecooks. Or that she is passionate about curry. She isn't particularly, although she is passionate about food in general. But what she is really passionate about is acknowledging the contribution made by Durban curry to our cultural heritage and its uniqueness to Durban. Not always a given it seems.
Erica, who grew up on the North Coast, recounts how she accompanied her husband, wine guru John Platter, to China to take part in an event celebrating 10 years of diplomatic ties between the two countries. Table upon table groaned under the weight of the different cuisines of South Africa. But Erica  noticed no Durban curry. Or any Indian curry. That made her angry. If Durban is, as is claimed, home to the largest Indian community outside of India, their contribution to South Africa's melting pot of cuisines is a major one. So why is it not acknowledged?
Probably because Cape Town food movers and shakers believe the world starts and ends at the foot of Table Mountain. In truth, though, who could turn up their nose at a Durban curry – especially if the alternative is waterblommetjie bredie, babotie or a Malay curry.
Fuelled by this outrage she and Clinton set out to pay tribute to Durban curry and the Indian community with Durban Curry – So Much of Flavour. And now with Durban Curry: Up2Date.
As my mom would have said, Erica is no spring chicken. Nor am I for that matter. But she's indefatigable when it comes to promoting her latest book, boasting the energy of a woman half her age and the wit and charm of a woman who has spent a lifetime negotiating social interactions. Erica, you see is a journalist by profession, meeting people from all walks of life.
Back to her promoting Up2Date. Her face popped up on Facebook practically every day during a promotional whirl around. There she was at a launch at the Glenwood Bakery (Adam and Carin Robinson contributed recipes for curried beans on toast, plus masala eggs.). Then I noticed a Facebook post with her holding Up2Date at the Durban Literary Festival at Ike's Bookshop, where she talked about her latest publishing baby. Then she was at Exclusive Books, Ballito Junction. Then she was at the Elangeni Hotel, which hosted a launch for the book, inviting media (including me) and contributors. Their chef Bevashen Naidoo contributed a recipe for curry-braised short ribs to the book. And of course, there was a curry buffet. And boy, did we enjoy those curries, inspired by Up2Date. Then I saw her at the launch of Sagra Foods' new premises in Cornubia. And finally I attended a launch lunch at the Beverely Hills Hotel. A friend had an extra ticket going at the last moment. Their chef, Mdumiseni Gumede, cooked for us a starter of  spicy octopus, curried pineapple relish and papadum dust, followed by masala-spiced chicken supreme with tumeric-scented pearl couscous, asparagus and chilli and lime papaya puree. Dessert was a chilli chocolate tart. And the ladies at this ladies-only-lunch lapped up every one of Erica's words, along with every morsel of food.
Who so are the other contributors? They include Jacqui Rey (lamb curry); Shamen Reddi of Impulse by the Sea (kebab chutney roti and broad beans bunny); Rebecca Naidoo, Britannia Hotel (Brits paneer in fish curry-style gravy and Boti bunny with chick peas);  Seabell's apple, lemon and veg pickle; Anand Pancholy of Indian Summer (dhal makhani); Asha Maharaj, homecook, columnist (green banana kebab curry); Aunty K, homecook (sweet potato curry); Linda Burger from Spice restaurant (curried brinjal and egg); the Harie family, Spice Emporium (yellow dhal, gluten-free rotis);  from caterer Solly Mantra, a lesson on how to make the perfect rice; Kevin Joseph (Oyster Box) spicy Durban oysters, and Kayla-Ann Osborn, top and hot chef at the Chefs Table at Umhlanga, honours both Durban curry and Natal langoustines with her recipe for Natal lango with a spicy sauce and fried curry leaves. And Durban's famous Sunrise Chip 'n Ranch offered a recipe for okra with chillies, mustard seeds, onions, curry leaves and dhania.
There is of course, many more contributors. All the recipes are accompanied by stories told by those who contributed. Hence the food story label. Meet, for instance, Bala Valayadam, who grows vegetables on the family farm in Umhlali and sells them in the family's little store, along with homemade curry powder, flowers, fish, samoosas, sweets and take-away prawn curries. And Godfrey Chege Kinyanjui, the Nairobi-born sous-chef at Simbithi's Fig Tree restaurant, who presides over Simbithi's popular weekly curry buffet.
Naturally John Platter reveals what to actually drink with curry and Clinton Friedman, who prefers to remain out the picture, is behind the photographic illustrations that so evocatively portray our city, our food, and our people.
So what is a Durban curry?  I asked Erica if her latest curry book includes a recipe for biryani, but she says no, it's not a Durban Curry. But, as she also admits, Durban curry has evolved.
Not the classics, though, they are timeless, such as the quintessential Durban bunny chow, and they are an integral part of Up2Date. But, as Erica and Clinton say, Durban curry is not set in stone. "The point about this community dish, which has become a national treasure is, precisely and imprecisely, that it has always moved and mutated with the times. It continues, as it did right from the beginning, to respond to new circumstances and needs." So it's becoming lighter, healthier and quicker to cook.
As I said, we have the classics, but we also have new classics such as Adam Robinson's roast quail with spiced brown lentils and yoghurt;  Constantijn Hahndiek's paddle tuna and spiced pearl couscous; and Andre Schubert's Durban Poison paneer makhani. So while the book is still about Durban Curry, it ventures a little into unchartered culinary territory. But don't worry, the recipes are imaginative and evocative. You just went to throw on your apron and slave over a hot stove.
But let's get traditional. What really is Durban curry? I asked Mrs Goggle and she offered up this fascinating piece from The Spruce Eats website. It first reveals what all already know;  that when the indentured labourers came from Indian in the 186os to work in the sugar cane plantations of then colonial Natal, they brought spices, and seeds, and recipes. And that when inevitably, the influences and memories of the mother cuisine faded, Durban curry became its own thing. Their story goes on…
Durban Curry just might be the best in the world
You may wonder why a Durban curry is known as a Durban curry and why this is so important. The answer is simple. It is thought by many a curry enthusiast that the best curries in the entire world come from the city of Durban. Durban itself has a fascinating history, much like the rest of South Africa. When you first land in Durban, you will feel as though you have landed in India, Singapore or somewhere else in Asia which has a significant Indian population. In fact, most of South Africa's Indian population is concentrated in Durban.It, therefore, does not come as a surprise that many popular dishes from Durban have a distinct Indian twist to them. But what is it that sets apart a Durban curry from any other curry? This is a good question and what we would conclude is the following.
Heat: Durban curries are said to be much hotter than other curries and will often incorporate the use of hot and spicy cayenne pepper, or a very hot spice known as curry masala, which is different from store bought curry powder.
Red colour: The use of tomatoes, tomato puree or concentrate in Durban curries is another feature which sets it apart. This will normally result in its lovely red color. Some people opt to add paprika to the dish, however sticking with the tomatoes, you could not go wrong.
Sweet Spices: You will often find the use of garam masala in Durban curries is very popular. But the real sweet spices you are trying to get at are either cinnamon, cardamom and cloves, or a combination of all three spices. As for us, we love using whole cinnamon sticks as it gives that hint of sweetness as well as adds a rustic touch to the dish. We also find that we tend to use different combinations of the three sweet spices depending on what kind of meat we are using. For instance, we are more likely to use cloves in a lamb or goat (mutton) curry as we believe these ingredients were made for each other.
Curry Leaves: You will not find a Durban curry recipe which has not incorporated curry leaves into the dish, either by adding the leaves whole, or grinding them along with other curry masala spices when creating a homemade spice blend.You can, therefore, achieve creating a Durban curry with as many spice combinations as you please, but so long as you have the above four elements incorporated within your recipe, you are bound to achieve something close to the authentic Durban Curry.  – The Spruce Eats (www.thespruceeats.com)  Written and published June 30, 2019.