Cafe 1999
Silvervause Centre, 117 Vause Rd, Durban
Call: 031 202 3406
Open: Monday to Saturday
Opened in 1999 by Andre Schubert, Cafe 1999 has shown remarkable staying power in an industry particularly vulnerable during times of recession, and to fickle diners in perpetual pursuit of the new and trendy.  Even more admirable is that present owners, Marcelle and Sean Roberts, have not only managed to keep Cafe 1999's doors open 16 years on, but have also opened two other successful eateries; Unity in Vause Road and S43 in the highly desirable station precinct.
Both Unity and S43 tick all the right boxes when it comes to being trendy: chilled vibe, right location, edgy decor, reasonably priced cafe food and a range of craft beers brewed at S43. Unsurprisingly, they are hugely popular with twenty-somethings.
But, if you want classy food and a laid-back vibe, Cafe 1999 ticks those boxes.  A friend and I had a very pleasant lunch there on a recent Friday. Innovative food, consistency, a good wine list and impeccable service lift Cafe 1999 well above the ordinary.
That the restaurant was barely a quarter full on a Friday lunchtime suggests the new generation of restaurant- goers are not interested in fine dining when they can have a hearty Mexican burger at S43 for half the price.  Alternatively, perhaps it's because people who can afford and enjoy fine food and wine have moved north of Durban. Or perhaps there are too many fine dining restaurants and too few people who can afford and enjoy them.
No clear answer here although I suspect it's a bit of all of the above. THE LOOK
Classy and airy with the centre of the room dominated by a curved bar.  But the buck horns on the wall seem a bit inappropriate in times where there's a strong push to conserve our wildlife, not kill them. Also a terrace area.
THE FOOD
When Cafe 1999 first introduced  the option of  titbits (small portions) or bigbits (larger portions), it was ahead of its time. Now, there are many versions of it. Being able to choose your portion size is perfect for foodies who want to sample more menu options.
Their menu is divided into sections like titbits, which offers chickpea and feta balls served with minted yoghurt and a tomato and olive salsa R50; Turkish figs stuffed with Gorgonzola and wrapped in Parma ham, R55; and Moroccan lemon and pine nut lamb meatballs with tahini, R65.
A salad selection follows. I liked the sound of grilled goat's cheese and onion marmalade with fresh greens, toasted almonds and beetroot served on a bruschetta, R65/R89, but didn't go that route.
Then there's a range of pasta dishes that includes prawn and chorizo agile olio, which are offered in two portion sizes.
Bit parts are main (perhaps man)-sized portions. Options include chargrilled beef fillet and pork cutlets served on a bed of caramelised red cabbage, butternut and vanilla puree and drizzled with a spiced, burnt honey and citrus sauce, R145.
There are also enough options to keep vegetarians happy.  Think lemon and olive oil roasted cauliflower over an almond emulsion served with sautéed baby spinach and pickled butternut and chickpeas,  R115.
They also have daily specials and I opted for one as a titbit. It was deep fried tuna wontons served with a soya-based sauce, which was very pleasant but not outstanding.
Belinda ordered another special; asparagus wrapped in parma ham and served with a napolitana sauce, R69 and had similar response: nice but not memorable.
But my main was  memorable. Tuna sashimi served with a rice noodle salad with herbs, avocado and cashews,  served with a light sweet chilli dressing, R95 for big portion. It was sublime.
Belinda opted for a broccoli and Gorgonzola salad served with maple glazed bacon, walnuts and apple and drizzled with a spring onion dressing, R69 for a titbit portion. She thoroughly enjoyed her choice.
I ended with a vanilla panacotta, rose and strawberry sorbet with a pistachio puree and rose jelly, R55 which was ambrosial.  Other options include a lemon tart, vanilla and rooibos creme brule  and triple chocolate brownie.
Our bill came to R450 which included a glass of wine for R45.
SERVICE
Very efficient.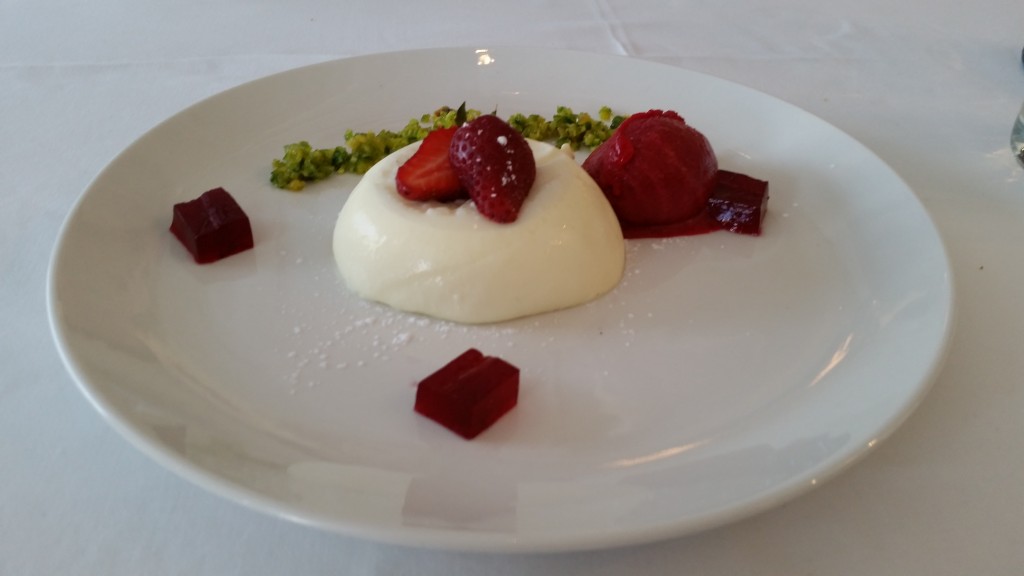 A sublime vanilla panna cotta with rose and strawberry sorbet, pistachio and rose jelly.